by Steve B on November 1st, 2018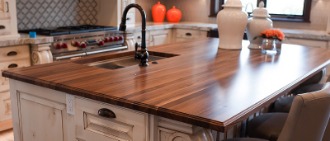 Happy November everyone. We had fun a few months ago, customizing a wooden butcher block countertop that was using an undermount sink. (Similar to picture). Produced a video short on the experience and can help you with a similar project. For those looking for a rustic, warm, authentic countertop that ties in with any wood cabinetry or flooring...consider having us fabricate your very own butcher block table. For those who love our Did You Know About...section, I bet you know what this months topic covers. Call me and let's discuss your ideas !!
Did You Know...Butcher Block Basics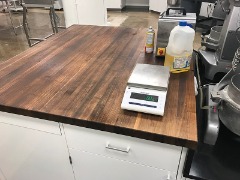 ​Butcher block, is a style of assembled wood (often hard maple, teak, or walnut) used as heavy duty chopping blocks, table tops, and cutting boards. It was commonly used in butcher shops and meat processing plants but has now become popular in home use.
There are two basic styles of butcher block: end grain and edge grain.
Butcher blocks have been used in butcher shops for centuries, and still are in many European countries. Increasingly, though, butcher block is being used in domestic kitchens as an alternative to stone and laminate countertops. This has created a new industry in the kitchen design arena and many furniture manufacturers and hardwood flooring companies are getting into the production of butcher blocks and butcher block countertops, in part because the countertops can be constructed from left-over wood that would otherwise be discarded. Special thanks to Wikipedia !
SOCIAL MEDIA LINKS...Contact Us /More Info

​​CONTACT US...
​Address: ​878 Howe Road #B
Martinez, CA. 94553
​Phone: (925) 229-3199
Email Link Here or fill out our online contact form
FACEBOOK LINK
TWITTER LINK
by Steve B on September 6th, 2018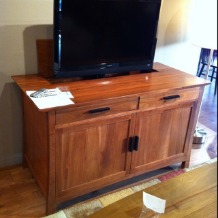 Happy September Everyone,
It's been a summer of extremes...hot temps and saws and sprayers that got little rest. It looks like cooler temps are ahead of us and hopefully a weekend or two to call our own, before the next rush of kitchen projects get's underway.
We recently completed a very cool and interesting project that we were wanting to take on for awhile. We modified a clients existing cabinet to house a large screen TV that would recess and rise from the rear of the cabinet. Both the client and we were pleased with the results. We're always open for out of the box (or hidden in the box) projects and encourage you to contact us if you have need for such a solution. Not only does it save space, but it makes everything (TV and cabinet) easier to clean, due to the simple fact that it doesn't pickup dust while recessed. Once retracted the cabinet surfaces are easy to wipe down. It also encourages people to not keep cluttering nick-naks ontop of the cabinet...reinforcing a cleaner, uncluttered look.
DID YOU KNOW...TV Lifts Basics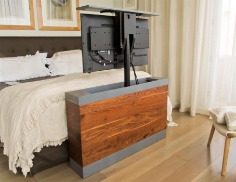 ​A Television-lift, TV-lift for short, or also TV lifting system, is an electrically powered mechanical system which lifts or moves televisions vertically or horizontally out of furniture, ceilings or partition walls. The main reason for using a TV lift system is in order to integrate a television into the existing interior design of a room without the television disrupting the overall design appearance. Due to the high overall project costs associated with TV lifts, they are regarded as a luxury product and are as a consequence most commonly to be found in more up-scale homes and apartments, conference rooms, private jets or yachts.
Contact Us - Social Media Links - More Info

​CONTACT US...
​Address: ​878 Howe Road #B
Martinez, CA. 94553
​Phone: (925) 229-3199
Email Link Here or fill out our online contact form
FACEBOOK LINK
TWITTER LINK
by Steve B on August 8th, 2018
​Happy August Everyone, The summer has been very busy for us and were posting our final video blog for our successful Danville/Blackhawk project. In this episode, homeowner Megan sings our praises while we showcase some of the unique features of the build...including custom island, custom office nook/recipe desk, (located just off the kitchen,) new lower and upper cabinets and our handcrafted range hood/exhaust fan. Were really happy with the final results.

We did this project with our General Contractor friends at Benchmark Construction and are happy that it turned out so well. Remember folks...if you like what you see, let us know. We can make it happen for you.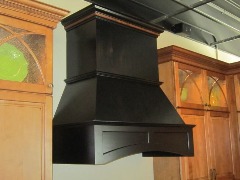 Did You Know...
​An exhaust hood, extractor hood, or range hood is a device containing a mechanical fan that hangs above the stove or cook-top in the kitchen. It removes airborne grease, combustion products, fumes, smoke, odors, heat, and steam from the air by evacuation of the air and filtration.[1] In commercial kitchens exhaust hoods are often used in combination with fire suppression devices so that fumes from a grease fire are properly vented and the fire is put out quickly. Commercial vent hoods may also be combined with a fresh air fan that draws in exterior air, circulating it with the cooking fumes, which is then drawn out by the hood.
In most exhaust hoods, a filtration system removes grease (the grease trap) and other particles. Although many vent hoods exhaust air to the outside, some recirculate the air to the kitchen. In a recirculating system, filters may be used to remove odors in addition to the grease.

SOCIAL MEDIA/ CONTACT US....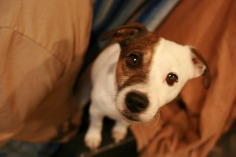 CONTACT US...
​Address: ​878 Howe Road #B
Martinez, CA. 94553
​Phone: (925) 229-3199
Email Link Here or fill out our online contact form
FACEBOOK LINK
TWITTER LINK
by Steve B on May 1st, 2018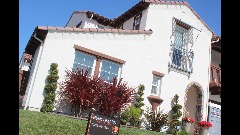 Happy May Everyone,
Were happy to be close to wrapping up our final videos on our successful Danville project.
As they say...there is no better way to talk yourself up than NOT do it...and let others sing your praises. In this day of self promotion, loud voices and "look at me" attitudes...it means all the more to have happy clients who do the talking for us.
We thank homeowners Megan and Ryan for their encouraging words and remind you that we are here to help you realize your dream bath, kitchen or custom cabinetry project. If you can scribble notes on a napkin...or notepad...we can brainstorm some innovative designs and/or solutions for you.
Everything You Want To Know About Hoods
​The device is known as an extractor hood in the UK, as a range hood in the United States, and as a rangehood in Australia. It is also called a kitchen, stove, exhaust, cooker, vent, or ventilation hood. Other names include cooking canopy, extractor fan, fume extractor, and electric chimney.

​Extractor hoods controls are typically electronic, though some lower-end models use electro mechanical controls. Extractor hoods with electronic controls can offer remote control, motorized height adjustment, thermal sensor, overheat protection, boost mode, delayed shut-off, filter cleaning reminder, active noise cancellation, temperature display, user presets (memory), and so on.

Extractor hoods may be made from a variety of materials, including: stainless steel, copper, bronze, nickel silver, zinc, tempered glass, wood, aluminum, brass, heat-resistant plastics, and more. Typically custom hoods are made from wood with metal, copper or light weight steel used as a protective and easier to clean interior liner.

NFPA 96 Standard for Ventilation Control and Fire Protection of Commercial Cooking says that mesh filters shall not be used. It requires that "Listed" grease filters shall be tested in accordance with UL 1046, Standard for Grease Filters for Exhaust Ducts.

SOCIAL MEDIA LINKS....Contact Us

by Steve B on March 2nd, 2018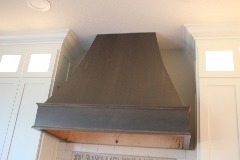 Happy March everyone !

With the close of a dry February, were looking at the weather forecast and storm clouds and are hoping that the ides of March bring with it...plenty of rain. We've been keeping dry and busy this winter and are looking forward to some interesting projects the next few months.

In this episode were again spotlighting our recently completed Black Hawk project and paying special attention to the beautiful and creative custom hood that we built for this kitchen overhaul. We like doing hoods and want to encourage any of you who desire something special for your own kitchen to reach out (phone or email) and give us your ideas. We can build anything you desire...period.
DID YOU KNOW: Exhaust / Extractor Hoods....Ducted vs. Recirculating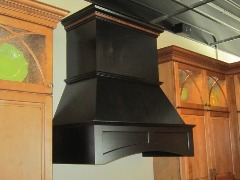 ​There are two major configurations of extractor (aka Exhaust) hoods: ducted (or vented) application, and ductless (or recirculating) application. In a ducted application, the output collar of the extractor hood's blower motor is attached to a duct system, which terminates outside the building. In a ductless application, a filter, often containing activated charcoal, removes odor and smoke particles from the air before releasing the cleaned air back into the kitchen.
A ducted system allows for removal of all forms of airborne contamination, while a ductless one recirculates heat and moisture into the kitchen. In addition, a ducted application eliminates the need for regular replacement of the filters, and avoids the airflow restriction (and resultant loss of power) caused by them. However, ducted application can be impractical, due to lack of space or ability to install a duct system, make-up air requirements, or the additional cost of heating/cooling the make-up air. Some range hood designs allow for both types of applications.
Exhaust hoods almost always include built-in lighting to illuminate the cooking surface. In addition, some manufacturers offer matching accessories, such as backsplash panels, pot racks, shelf units, or dish racks. The main advantage of an extractor hood is that it can easily filter the airflow, without harming the edible materials and can be easily installed if it is semi-automatic.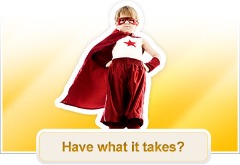 CONTACT US:

​​Address: ​878 Howe Road #B
Martinez, CA. 94553

​Phone: (925) 229-3199
Email Link Here or fill out our online contact form


FACEBOOK LINK
TWITTER LINK
​