by Steve B on March 2nd, 2018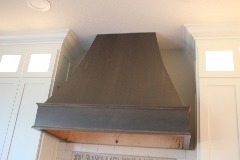 Happy March everyone !

With the close of a dry February, were looking at the weather forecast and storm clouds and are hoping that the ides of March bring with it...plenty of rain. We've been keeping dry and busy this winter and are looking forward to some interesting projects the next few months.

In this episode were again spotlighting our recently completed Black Hawk project and paying special attention to the beautiful and creative custom hood that we built for this kitchen overhaul. We like doing hoods and want to encourage any of you who desire something special for your own kitchen to reach out (phone or email) and give us your ideas. We can build anything you desire...period.
DID YOU KNOW: Exhaust / Extractor Hoods....Ducted vs. Recirculating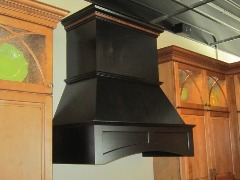 ​There are two major configurations of extractor (aka Exhaust) hoods: ducted (or vented) application, and ductless (or recirculating) application. In a ducted application, the output collar of the extractor hood's blower motor is attached to a duct system, which terminates outside the building. In a ductless application, a filter, often containing activated charcoal, removes odor and smoke particles from the air before releasing the cleaned air back into the kitchen.
A ducted system allows for removal of all forms of airborne contamination, while a ductless one recirculates heat and moisture into the kitchen. In addition, a ducted application eliminates the need for regular replacement of the filters, and avoids the airflow restriction (and resultant loss of power) caused by them. However, ducted application can be impractical, due to lack of space or ability to install a duct system, make-up air requirements, or the additional cost of heating/cooling the make-up air. Some range hood designs allow for both types of applications.
Exhaust hoods almost always include built-in lighting to illuminate the cooking surface. In addition, some manufacturers offer matching accessories, such as backsplash panels, pot racks, shelf units, or dish racks. The main advantage of an extractor hood is that it can easily filter the airflow, without harming the edible materials and can be easily installed if it is semi-automatic.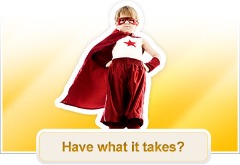 CONTACT US:

​​Address: ​878 Howe Road #B
Martinez, CA. 94553

​Phone: (925) 229-3199
Email Link Here or fill out our online contact form


FACEBOOK LINK
TWITTER LINK
​
by Steve B on December 4th, 2017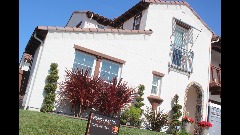 Happy Holidays everyone.

Were pleased to post our most recent testimonial from General Contractor Jason Bliss (Benchmark Construction).
We had the pleasure to work with the guys at Benchmark on this great project and were happy that everyone was happy with our work and the work by all the specialty subs. In this and future testimonials on this project well address comments from the actual homeowners. As done in our most recent projects we will also show and contrast the during work and final reveal with everything completed.
Well see you next month folks...Happy Holidays
DID YOU KNOW?....From Steves' Desk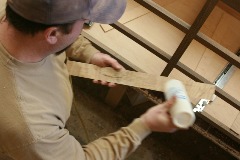 SOLID WOOD VS. PARTICLE BOARD.
Solid wood and plywood are durable and strong, but are more costly and offer MORE dimensional stability than particle board. For cabinets and surface finishes that may sustain damage during long use, serviceability is a consideration.

In case of damage, solid wood can be repaired by a qualified furniture refinisher, other than the manufacturer, to achieve a perfect match to the surrounding finish. Veneered MDF and particle board components, if damaged, must be replaced by the manufacturer. If water reaches the core, particleboard especially will swell irreversibly (therefore it is never used in home applications, where there is any chance for the material to come in contact with moisture (kitchens, baths).
Tolerances for the use of screw fasteners in particleboard are tighter than for solid wood or plywood, and screws often loosen over time if over-torqued. However, MDF and particle board service life is projected as intermediate, e.g., where the kitchen will be remodeled approximately every 15 years, or where the manufacturer can be relied upon to supply replacement components if needed. Service life for a solid wood panel or cabinet can be a lifetime (25+years).

​​SOCIAL MEDIA/ CONTACT US
​Address: ​878 Howe Road #B
Martinez, CA. 94553
​Phone: (925) 229-3199
Email Link Here or fill out our online contact form
FACEBOOK LINK
TWITTER LINK
by Steve B on October 31st, 2017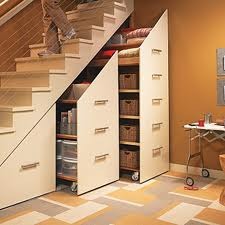 Happy November everyone,
Winter looms just beyond the horizon and the cool temps are here ! Were welcoming it all, because we've been burning up the shop with lot's of cool projects.
The video above is Part Two of our continuing series on our recently completed Danville project working with Benchmark Construction. As this proceeds, Benchmark Project Coordinator Rick Millington says a few nice things about us...and as always...it's always appreciated ! In the video below, we found a short and sweet example of a secret bookcase door that brings home the numerous posts weve written about in the recent past. We would love to take on such a project for you...creating a hidden safe room, man cave, woman's retreat (Isn't the entire home for the woman?!) or specialty work room. Give us a call and let's strategize about a cabinet solution for you. Remember...if you can dream of it, we can build it.
SOCIAL MEDIA LINKS/ CONTACT US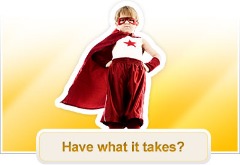 ​​SOCIAL MEDIA/ CONTACT US
​Address: ​878 Howe Road #B
Martinez, CA. 94553
​Phone: (925) 229-3199
Email Link Here or fill out our online contact form
​FACEBOOK LINK
TWITTER LINK
by Steve B on September 15th, 2017
Danville Project Introduction Video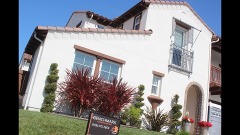 As the end of summer draws near and the dog days of August are behind us...we post our latest blog. It's been a very busy season and the Fall brings us this first of a short series on our recently completed Danville kitchen project. Working as the Cabinet subcontractor for the project GC Benchmark Construction, were happy to call this another success.
In this video we set the stage for the upcoming videos and posts which will showcase a few of the special features of the project and will spotlight endorsements from the guys at Benchmark and the homeowners themselves. Like you...we like projects which involve a creative collaboration between all parties. In this case, it turned out wonderfully and everyone is satisfied with the final result. If YOU want to have YOUR kitchen or bath featured on an upcoming vblog series...drop us a line and let's book a project for you.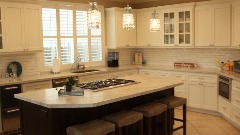 One of the features in the above project and in recent projects this past year is the increasing request for dual finished cabinets...emphasizing a designer touch. Dual finishes is just that...two colors or separate finishes on different cabinets/case goods which provide a visual "punch" to the standard mono-toned kitchen. In the above (You'll have to wait and watch it) the kitchen hood (custom fabricated, by the way) AND the island are both finished in a darker, Alder wood stain finish which serve as a designer inspired counterpoint to the crisp, white lower and upper cabinets.
Social Media Links/ Contact Us

​SOCIAL MEDIA/ CONTACT US
​Address: ​878 Howe Road #B
Martinez, CA. 94553
​Phone: (925) 229-3199
Email Link Here or fill out our online contact form
​FACEBOOK LINK
TWITTER LINK
by Steve B on May 20th, 2017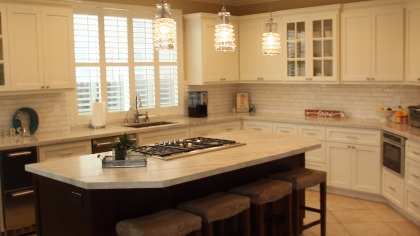 Welcome everyone to a hot and then cold again...then hot again Spring. It's been so consistently busy and warm in the shop the past months that we barely noticed (barely is the key word)...as we ready for the busiest Summer yet !
In this months posts, we wrap up our Brentwood project testimonials with owners Melissa and Mark. This episode, they both talk about some of the custom features and add-on's that were designed after the project was underway. As the video illustrates, we installed a custom pull out spice shelf...a creative and more accessible twist on the traditional overhead pantry rack.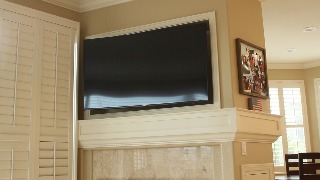 Mark and Melissa also talk about the custom TV / Curio cabinet that was designed at the edge of the kitchen space which added a place for artwork and curios on one side and a pull-out, tilting flat panel TV screen on the other. All of this done to match the existing colors and trim and makes creative use of a former wall. (It also hides the cables, modems for the electronics which are readily accessible with their own pop up door.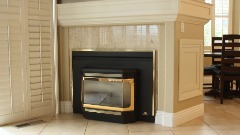 Fireplace insert mounted below the TV Screen (above). The thick, built up, wrap around trim serves a dual function of tying in the design elements, directing any heat away from the screen and provides a small lip for small curios.
Pictured L. The white doorway adjoining the firebox houses a custom built electronics and modem/router cabinet for the house.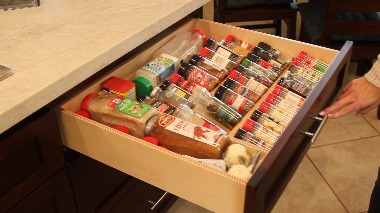 Pictured R.
Custom pull out spice shelf that was built to rest under the new cooking island. Closer to the action, means tastier food...more often.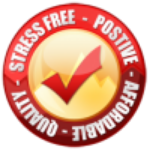 ​SOCIAL MEDIA/ CONTACT US
​Address: ​878 Howe Road #B
Martinez, CA. 94553
​Phone: (925) 229-3199
Email Link Here or fill out our online contact form
​
FACEBOOK LINK
TWITTER LINK