Need a Butcher Block Countertop ?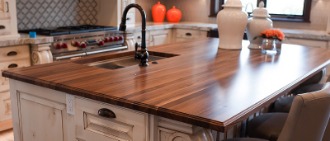 Happy November everyone. We had fun a few months ago, customizing a wooden butcher block countertop that was using an undermount sink. (Similar to picture). Produced a video short on the experience and can help you with a similar project. For those looking for a rustic, warm, authentic countertop that ties in with any wood cabinetry or flooring...consider having us fabricate your very own butcher block table. For those who love our Did You Know About...section, I bet you know what this months topic covers. Call me and let's discuss your ideas !!
Did You Know...Butcher Block Basics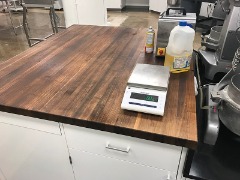 ​Butcher block, is a style of assembled wood (often hard maple, teak, or walnut) used as heavy duty chopping blocks, table tops, and cutting boards. It was commonly used in butcher shops and meat processing plants but has now become popular in home use.
There are two basic styles of butcher block: end grain and edge grain.
Butcher blocks have been used in butcher shops for centuries, and still are in many European countries. Increasingly, though, butcher block is being used in domestic kitchens as an alternative to stone and laminate countertops. This has created a new industry in the kitchen design arena and many furniture manufacturers and hardwood flooring companies are getting into the production of butcher blocks and butcher block countertops, in part because the countertops can be constructed from left-over wood that would otherwise be discarded. Special thanks to Wikipedia !
SOCIAL MEDIA LINKS...Contact Us /More Info

​​CONTACT US...
​Address: ​878 Howe Road #B
Martinez, CA. 94553
​Phone: (925) 229-3199
Email Link Here or fill out our online contact form
FACEBOOK LINK
TWITTER LINK
Posted in not categorized
Tagged with no tags