Custom Spice Pull Out Cabinet & Curio Inserts. Project Testimonials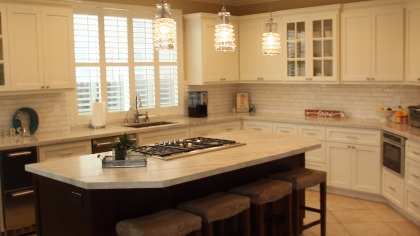 Welcome everyone to a hot and then cold again...then hot again Spring. It's been so consistently busy and warm in the shop the past months that we barely noticed (barely is the key word)...as we ready for the busiest Summer yet !
In this months posts, we wrap up our Brentwood project testimonials with owners Melissa and Mark. This episode, they both talk about some of the custom features and add-on's that were designed after the project was underway. As the video illustrates, we installed a custom pull out spice shelf...a creative and more accessible twist on the traditional overhead pantry rack.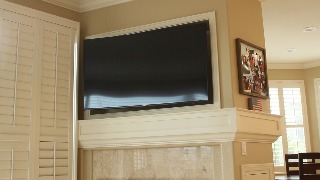 Mark and Melissa also talk about the custom TV / Curio cabinet that was designed at the edge of the kitchen space which added a place for artwork and curios on one side and a pull-out, tilting flat panel TV screen on the other. All of this done to match the existing colors and trim and makes creative use of a former wall. (It also hides the cables, modems for the electronics which are readily accessible with their own pop up door.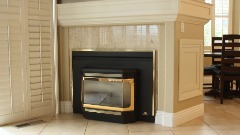 Fireplace insert mounted below the TV Screen (above). The thick, built up, wrap around trim serves a dual function of tying in the design elements, directing any heat away from the screen and provides a small lip for small curios.
Pictured L. The white doorway adjoining the firebox houses a custom built electronics and modem/router cabinet for the house.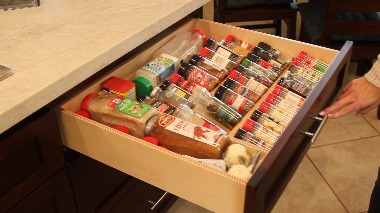 Pictured R.
Custom pull out spice shelf that was built to rest under the new cooking island. Closer to the action, means tastier food...more often.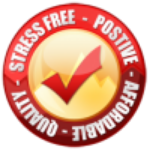 ​SOCIAL MEDIA/ CONTACT US
​Address: ​878 Howe Road #B
Martinez, CA. 94553
​Phone: (925) 229-3199
Email Link Here or fill out our online contact form
​
FACEBOOK LINK
TWITTER LINK
Posted in not categorized
Tagged with no tags