Client Testimonials from Mark and Melissa
APRIL SHOWERS...Bring On The Kitchens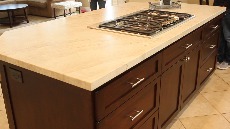 Spring is Sprung and with the last of the late season rain...Comes Part Three of our Four Part Series on our recently completed Brentwood project. As posted the past months, this installment captures the testimony of owners Mark and Melissa Overgaard who sing BC Cabs praises, after living with our cabinets for about a year. (The test of time, is a smiling client who sings good as they did when the job was first complete). In this post, Mark and Melissa showcase the new island which was stained a contrasting dark mahogany to make it pop from the white, conversion varnished uppers and lowers. Included in this was the custom spice drawer,(soft close) and the glass upper china cabinet. In next episode, they will talk a little about some of the additional custom features that were added (TV and fireplace tower and baking pan cabinet). Stay tuned...were almost done and excited to show you what can be possible with your kitchen or cabinet project.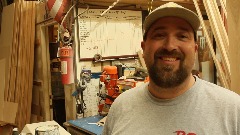 COMPARING PAINT AND VARNISH

​The initial application of any paint or varnish is similarly absorbed into the substrate, but because stains contain lower amounts of binder, the binder from a stain resides mainly below the surface while the pigment remains near the top or at the surface. Stains that employ metallic pigments such as iron oxides usually are more opaque; first because metallic pigments are opaque by nature, but also because the particles of which they consist are much larger than organic pigments and therefore do not penetrate as well. Most wood stains for interior uses (e.g. floors and furniture) require further application of varnish or finish for protection and gloss. Stains are differentiated from varnishes in that the latter has no added color or pigment and is designed to form a surface film. Some products are marketed as a combination of stain and varnish.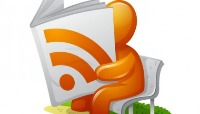 SOCIAL MEDIA/ CONTACT US
​Address: ​878 Howe Road #B
Martinez, CA. 94553
​Phone:
(925) 229-3199
Email Link Here or fill out our online contact form
​FACEBOOK LINK
TWITTER LINK
Posted in not categorized
Tagged with no tags