On the Job with Bob Thompson
Happy New Year Everyone.
The Holidays are a distant memory...Starting to feel like our species is focused more on work and not vacation time? If there is any consolation...I hope you like your work as much as I do.

In this months blog, I'm letting one of my favorite contractors sing my praises. Bob Thompson of RW Thompson Builders has been doing business with me for over 7 years and gives me a much appreciated endorsement (no script either) and regular work that is both interesting and challenging.

We've just wrapped up another high end job for him in Orinda and you'll be seeing more of it the next months as we spotlight various aspects and projects within the greater build-out. Thanks Bob.

Remember...If your a contractor looking to outsource your headaches and quality control issues to me...I'm your man. I'll let Bob tell you more.
CUSTOM TO ORDER...Secret Doors and Hidden Rooms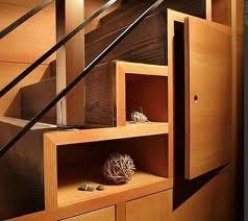 In past posts, we've talked about fabricating some out of the box boxes...or in this case...under stair shelving, secret hide-a-ways, kiosks that can be used for storage, toys, extra storage...your imagination is your only limit.

A project were itching to do is build a custom doorway into a bedroom that can double as a bookcase with a sliding or locking latch that can be drawn from the inside, effectively providing a entry proof hideaway for the man or woman of the house who needs to get away. Also known as a panic room or if it has a cooler...a man cave....we can build it for you or your family. If you can dream it...we can build it.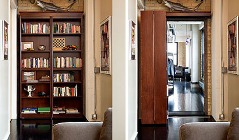 ​Secret passages, also commonly referred to as hidden passages or secret tunnels, are hidden routes used for stealthy travel. Such passageways are sometimes inside buildings leading to secret rooms. Others allow occupants to enter or exit buildings without being seen. Hidden rooms have helped people evade capture, smuggle goods, or carry out illegal activities.
​Address: ​878 Howe Road #B
Martinez, CA. 94553
​Phone: (925) 229-3199
Email: bradley_steve1@comcast.net
​Facebook Link
Twitter Link
Posted in not categorized
Tagged with no tags