Custom Bathroom Vanity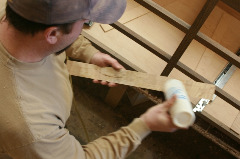 Hay everybody,

Steve here. I wanted to talk and show you a little about this cool custom vanity that we recently completed.

It has a radius (curved) front to it and the cool thing about this is that it has a sink ready top with sliding doors below the sink area. (It has three working, full slide out drawers). This is a perfect example of how we can take influence from the style of a house and incorporate it into the design for a seamless fit. (This was for an older, Victorian style house in Berkeley). We took influence from the home architecture, which also had curved radius, with nice raised and beaded moldings throughout the home).

This cabinet was also built to take advantage of a small available space in the home, without undertaking en extensive and expensive remodel of their bathroom. The cabinet features custom drawers that are notched to wrap around the existing home plumbing. (Not something you would typically need, nor something we have done often).

In summary: We can do it all... and do it right.

Until next time...this is Steve Bradley.

Posted in not categorized
Tagged with no tags