Solid Stock vs. Edge Banding Stock Cabinetry
Custom Cabinetry Tips and Insights

Hello Everybody. Happy Summer ! I wanted to illustrate in this months Video-Blog that not all cabinetry is created equal.

If you care about quality, durability and integrity you are best served by selecting us to design and fabricate your custom cabinets using solid stock woods...vs. the cheap, flimsy and non durable edge banding material (otherwise know as cabinet refacing material). We build our cabinets to last a lifetime and to keep looking great for a lifetime. Refacing is an inferior and non-durable technique to save clients money, but in the long run...it does the opposite. Refaced cabinets are covered with a thin, inexpensive layer of wood that is glued (yes glued) to the solid surface of the original cabinet. This "covering" or "overlay" is no substitute for a real piece of solid wood. Refaced woods do NOT last very long, are very prone to warping, de-lamination, scratching and coming off the surface below. Once you reface your cabinets a second time ...you realize that you didn't save any money, time or energy. .

We select only domestic solid woods, typically using Alder, Oak, Cherry, Maple or Ash...all sustainable, green labeled woods from American forests. I hope this helps you make the right decision. Call us if you have additional questions.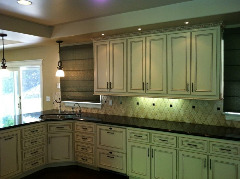 Right: SeaRanch custom cabinety project, completed March/April 2012.

These solid surface cabinets were finished in a clear lacquer finish which was designed to give a clean, open look with a touch of antique patina for character and charm. The clients did not want crisp, modern white but liked the warmth of these lighter cabinets.
Posted in Recent Blog Posts, 2012 Blogs
Tagged with Solid Stock cabinet design, NorCal custom cabinets, Steve Bradley Custom Cabinetry